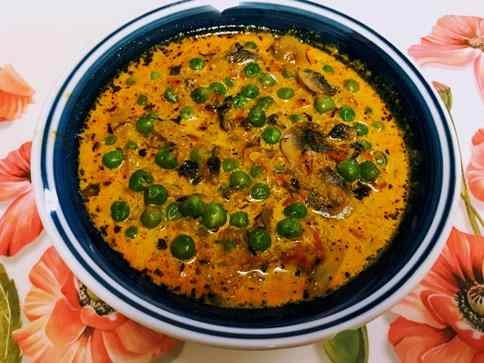 Indian Style Mushroom Peas Curry
Mushroom Peas Curry is an exotic restaurant-style Indian Curry and the aroma of whole spices will enhance your taste buds. The addition of fenugreek adds to the aroma. This creamy textured Indian curry goes well with Roti, Naan, or Rice.
Mushroom Peas Curry Recipe ¦ How to make Indian style Mushroom Peas curry ¦ How to make restaurant style mushroom matar
Serves : 4
Ingredients:
250 gms Button Mushrooms
1 cup shelled Green Peas
1 tbsp. heavy hipping cream
¼ cup Milk
½ tsp turmeric
½ tsp. red chilli powder
1 tsp. coriander powder
¼ cup plain yogurt
2 tbsp. dry Fenugreek leaves
2 tbsp. Clarified Butter or Ghee
1 large chopped onion
3-4 medium chopped tomatoes
1 chopped Green Chilli
1 tsp. ginger garlic paste
1 inch cinnamon
1 big cardamom
3 cloves
2 bay leaves
a pinch of mace or few blades of mace
Salt as required
Directions:
Rinse the mushrooms thoroughly and slice them. In a bowl whisk in Yogurt until smooth and stir in the mushrooms and a pinch of salt and keep aside the mushroom marinate for 1 hour.
Heat oil or clarified butter in a pan. Add the Whole Spices namely cinnamon, big cardamom, cloves, bay leaves and mace to it. Stir them for few seconds.
Add chopped onions , fry them till they turn golden brown, keep stirring occasionally.
Add ginger garlic paste along with green chili paste and sauté for 3-4 minute or till the raw smell stops coming.
Add the finely chopped tomatoes and cook till the tomatoes become mushy and leaves oil in the pan. Add turmeric, red chilli powder and coriander powder and sauté for 2 minutes.
Add the fresh cream and stir it gradually for a minute or two. Add the marinated button mushroom along with yogurt. Add salt and cook for 5 minutes.
Add the boiled peas along with milk and 1/4th cup water . Cook for another 5 minute on low heat till we get the thick consistency gravy. Stir constantly. Adjust the level of water to give the desired consistency.
Add Fenugreek leaves to the dish and mix well and switch of the heat.
Serve Mushroom peas curry hot with roti or naan or rice.