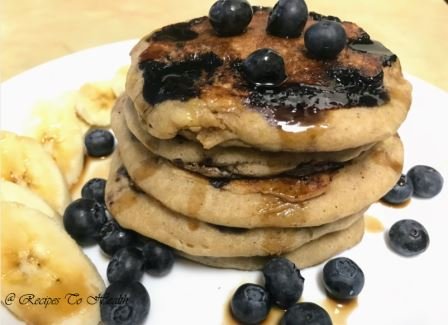 Eggless Banana Blueberry pancakes
Pancakes on a Sunday morning is a great real meal when the whole family gathers around the table and eat together. The best part about pancakes is its a healthy, delicious, quick, and easy to make breakfast.
Lumpy batter is always great to give a light and fluffy texture to your pancakes. Over mixing the batter makes the pancakes tough and dense.
I prefer adding berries to the pan instead of adding them to the batter. No matter how careful we are, stirring the berries into the batter causes a few to break and turning the batter to a grey-purple color.
I love pancakes with some fresh fruits around and brown sugar syrup at the top which adds to the taste.
Eggless Banana Blueberry pancakes
Course: Breakfast || Prep Time: 10 minutes || Cook Time: 15 minutes || Servings: 6 Person
INGREDIENTS
1 cup Whole Wheat flour
1/4 tsp. salt
1 tbsp. Baking Powder
1 tbsp. Sugar
1 Banana Ripe
1 cup milk + 2 tbsp. milk
1/2 tsp. butter
1/2 cup Blueberry
INSTRUCTIONS
In a bowl sift together the dry ingredients – Flour, baking powder , salt and sugar
In a separate bowl, whisk together milk , melted butter and mashed banana until smooth. Then add flour mixture to it. Don't over mix, it comes out best when the batter is a little lumpy.
Heat and grease the griddle or pan. Pour approximately 1/4 cup of batter to make each pan cake. Scatter blueberries on the top of the batter.
Cook pancakes until bubbles form , then using thin, wide spatula flip pancakes and cook until second side is golden brown.
Serve hot pancakes with fresh blueberries and banana slices and Syrup at the top.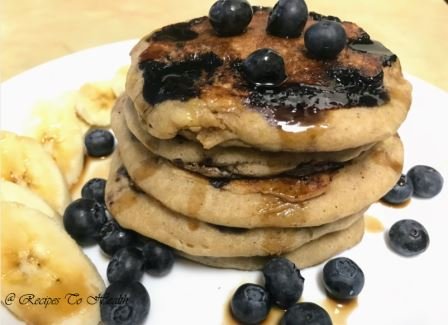 RECIPE NOTES
This recipe also turn out great with butter milk instead of milk.