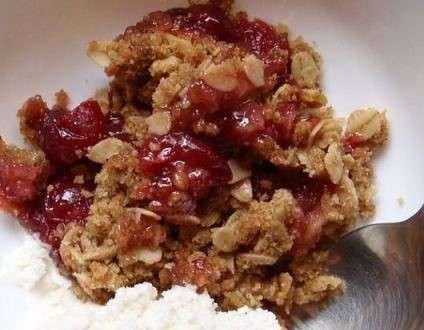 Pear Cranberry Crisp
My friends and Family love this Pear Cranberry Crisp. Festivals are around the corner, sweets will be all around, lets have something healthy. If fresh fruits are not available canned pears will also serve the purpose and dried cranberries also have the right amount of tang. You can also try Peach Cherry Crisp by adjusting sugar levels as these fruits are more sweet.
Pear Cranberry Crisp Recipe | How to make Pear Cranberry Crisp | Healthy Dessert Recipe
servings: 6 person
Ingredients:
5 cups sliced, peeled pears
1 cup cranberries
1/4 cup all purpose flour
1/4 tsp. ground nutmeg
1/4 tsp. ground cinnamon
3 tbsp. granulated sugar
1/2 cup regular rolled oats
1/2 cup packed brown sugar
1/4 cup butter
1/4 cup chopped walnuts
Directions:
Preheat oven to 375° F . If the fruit is frozen, thaw but do not drain. Place sliced pears and cranberries in a 2-quart baking dish. Stir in the granulated sugar.
For the topping, in a medium bowl stir together the oats, brown sugar, flour, cinnamon and nutmeg. Cut in butter with a pastry blender until the mixture resembles coarse crumbs. Stir in the nuts. Sprinkle topping over fruit.
Bake in the preheated oven for 30 to 35 minutes ( 40 minutes for thawed frozen fruits)or until fruit is tender and topping is golden. If desired serve warm with Frozen Yogurt or ice cream or whipped cream.