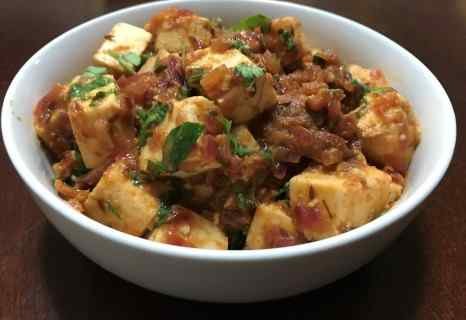 Hot Ginger Garlic Paneer
Hot Ginger garlic paneer is an easy-to-make paneer recipe and a great starter for paneer lovers. Paneer dish is usually the first pick for vegetarians. This Paneer recipe is nutritious and also satisfies the taste buds. It's a great go as a starter or evening snack. Change the spice level to suit your and your kid's taste buds.
How to make Hot Ginger Garlic Paneer | Hot Ginger Garlic Paneer Recipe | Easy paneer Recipe
Serves : 2
Preparation time: 10 min                 |                 Cooking Time: 15 min                 |        Total Time: 25 min
Ingredients:
250 gm cubed paneer
1 ½ tsp. garlic paste or 7-8 garlic cloves (grinded)
1 tsp. ginger paste
1/2 tsp. soy sauce
1 tsp. Vinegar
1/2 tsp. cumin
1/2 tsp. garam masala powder
1 tbsp. cooking oil
1/2 tsp tomato ketchup
1/2 teaspoon Red chilli powder
1 green chilli finely chopped or grinded
Salt to taste
1 small strand of mace
1/2 cup chopped onions
Fresh green coriander to garnish
Directions
Dice the paneer into small cubes. Mix the ginger paste, garlic paste, green chilli, tomato sauce, soy sauce, vinegar, salt, red chilli powder and garam masala powder in a bowl.
Heat oil in a pan over medium heat, add cumin seeds and mace, allow cumin to splutter.
Add the chopped onions and sauté till golden brown . Add the ginger garlic mixture and cook until it thickens and the oil separates.
Add the diced paneer and sauté it for 2-3 minutes. Garnish with coriander leaves and Serve hot.