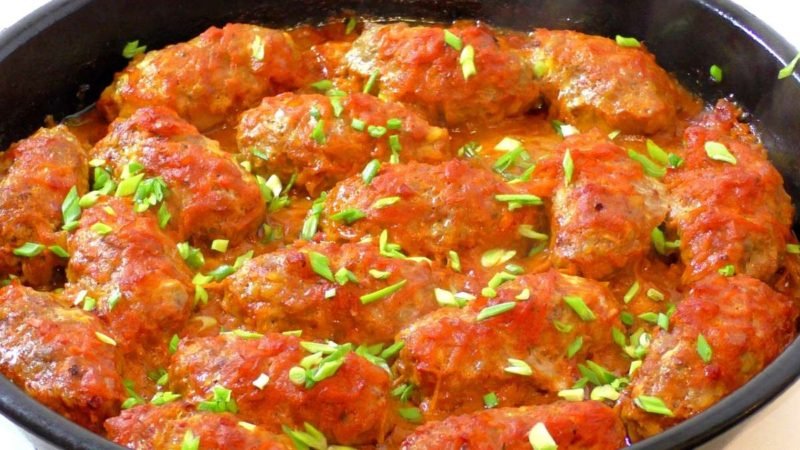 How to cook cabbage rolls: 3 recipes
I am one of those people who love to eat deliciously while spending a minimum of time in the kitchen. So I try to find the simplest recipes . It turns out that there are so many of them that you can easily organize a feast in the mountains. Choosing from such a variety, today I settled on a very appetizing dish. But I was confused between the three recipes. Let me tell you how to cook lazy cabbage rolls , and you will help with the choice.
The beauty of these dishes is that they are difficult to spoil. Even the most inept culinary specialist will be able to feed himself and his family deliciously. Feel free to change the amount of ingredients if you need to cook more or less. Cabbage, rice and minced meat are the three main ingredients of every lazy cabbage roll recipe . And how best to serve them, read below.
How to cook lazy cabbage rolls deliciously
Lazy cabbage rolls in tomato and sour cream sauce
The taste of these cabbage rolls has been familiar to us since childhood. These were the ones served in kindergarten. Let's remember that wonderful time.
Ingredients
400 g minced meat
1 egg
200 g white cabbage
1 carrot
100 g rice
1 onion
2 tbsp. l. tomato paste
1 tbsp. l. vegetable oil
2-3 tbsp. l. sour cream
1-2 bay leaves
salt to taste
ground pepper to taste
Preparation
Boil the rice and let it cool. Chop the cabbage, pour boiling water over it, cover and boil for 10 minutes.
Chop the onion and grate the carrots on a coarse grater. Fry vegetables in a tablespoon of oil. Don't let them burn.
Drain the cabbage. When it's cool, add the minced meat, frying, rice, egg and salt. Stir with your hands until smooth.
Wet your hands and form into small patties. Arrange them in one layer in a baking dish.
Combine tomato paste, sour cream and spices. Pour the cabbage rolls with the resulting sauce, add 200 ml of boiling water and bay leaf. Cook cabbage rolls in an oven preheated to 180 degrees for 45-50 minutes. Serve hot with sour cream.
Lazy cabbage rolls in a slow cooker
They are lazy as much as possible, because the multicooker will do everything for us. Well, almost everything, you just need to prepare the food.
Ingredients
400 g white cabbage
300 g ground beef
0.75 stack rice
1 onion
4 tbsp. l. vegetable oil
salt to taste
ground pepper to taste
Preparation
Cut the onion into cubes and sauté in oil on the "Fry" setting with the lid open.
Add the minced meat and continue to fry for another 10 minutes.
Season with salt and pepper. Rinse the rice and distribute evenly on top.
Chop the cabbage and add to the slow cooker. Pour in a glass of water and lightly salt. Then close the lid and simmer in the Pilaf mode.
Puff casserole with bell pepper
In this recipe, all the ingredients are stacked in layers, poured over with sauce and baked in the oven. Insanely tasty and very effective.
Ingredients
1 kg of white cabbage, chopped
600 g minced meat
100 g carrots
350 g onions
140 g fat sour cream
400 g of pulp of tomatoes or tomatoes in its own juice
120 g rice
100 g bell pepper
50-80 ml vegetable oil
salt to taste
ground pepper to taste
Preparation
Rinse the rice and boil in salted water until half cooked.
Cut the onion and pepper into small cubes, the carrots into thin slices, and chop the cabbage.
Heat oil in a skillet and sauté onions and carrots for 4 minutes. Cover, reduce heat to low and cook for another 5-6 minutes.
Salt the cabbage and remember with your hands, then transfer to the pan. Add bell pepper and sauté for 5 minutes.
Drain the rice and mix it with the minced meat, salt and pepper.
Brush the high-sided pan with sunflower oil and lay out a layer of half the vegetables. Spread the minced meat on top and cover it with the remaining vegetables.
Combine the tomatoes with sour cream and salt. Fill the layers with the resulting sauce. Cover the form with foil and send to the oven preheated to 210 degrees for 40-50 minutes.
Remove the foil and reduce the temperature to 200 degrees. Cook the casserole for about 10-20 minutes.
Well, have you decided on a favorite? And I decided not to choose. I'd better try all the options for lazy cabbage rolls . And I will invite guests to a treat. With dessert, everything is also simple. I will delight them with my favorite cake in a bottle . I ran to cook, and you share your best quick dishes in the comments!