Vegetable Quesadillas
Vegetables Quesadillas is a healthy, quick, delicious, and easy-to-make dish. I made it on my daughter's birthday and everyone loved it including kids :).
And the best part is that these quesadillas can be made with any of the fresh vegetables like Zucchini, Squash, mushrooms, Cottage Cheese(paneer), etc. Quesadillas can either be made on a non-stick pan or in a panini maker. I have made them in the panini maker as it saves time and it gets equally cooked on both sides at the same time. Serve these hot yummy quesadillas with Sour cream or Guacamole or salsa or eat just like that …
It's also a great lunch box meal. They can be a great appetizer or evening snack or a healthy meal or finger food for a get-together.
INGREDIENTS
1/2 cup Red Bell Pepper (Chopped)
1/2 cup Yellow Bell Pepper (Chopped)
1/2 cup Red Onion (Chopped)
1/2 cup Corn
6 Tortillas
1/2 cup Spinach leaves
1 1/2 cup Mozzarella Cheese Shredded
1/3 cup Chilli Tomato Ketchup
1 tbsp butter
Salt to taste
INSTRUCTIONS
In a large nonstick pan, cook red pepper, yellow pepper, onion, corn and salt to taste in butter over medium to medium-high heat for about 6-8 minutes, or until just tender. Remove vegetables from pan.
Take one tortilla . Spread 1 tablespoon Ketchup on it. Sprinkle 1/4 cup of cheese evenly over half of the tortilla. Top it with a layer of spinach leaves and further with a layer of the vegetable mixture. Sprinkle some more cheese on the vegetables, and fold the other half of the tortilla over it.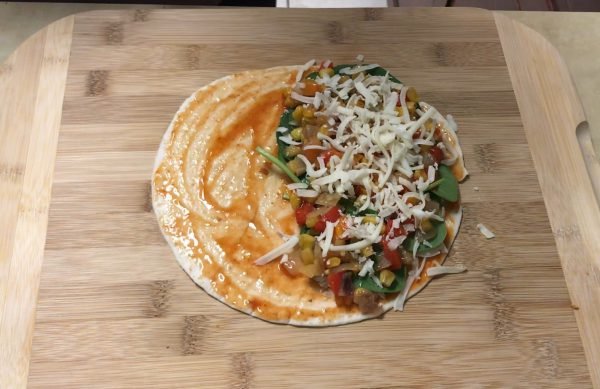 Coat the grill or pan with cooking spray.Cook until golden on both sides, for approximately 2 to 3 minutes per side. Remove quesadilla from grill or pan, and repeat with remaining ingredients. Cut each quesadilla into 4 triangles with a pizza cutter. Serve hot.