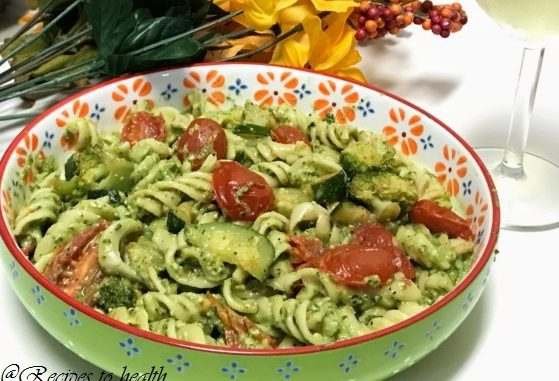 Avocado Pesto Pasta with Vegetables
Pesto Pasta is one of my favorites, this recipe is a variation of classic pesto pasta. I love avocados and prefer to add them to different recipes to increase the content of healthy fats. Our body requires 25% to 35 % of fats to absorb fat-soluble nutrients like Vitamin A, Vitamin D, Vitamin E and Vitamin K. Why not to fill this requirement with these nutrient-filled avocados.
Opting for whole wheat pasta ensures more nutritional value in the diet as they are less processed and contain 3 parts of the grain – the bran, the germ, and the endosperm.
Broccoli is another superfood that is a great vegetarian source for macronutrients. Broccoli contains more protein per calorie than steak. I prefer adding vegetables to my pasta in order to make it a balanced meal. You can add vegetables of your choice to it.
INGREDIENTS ( Servings – 4 People )
Avocado Pesto Sauce
30 gms fresh basil
1/2 cup pine nuts
1/4 cup Parmesan cheese grated
1/4 cup olive oil Extra Virgin
1 Ripe Avocado halved, seeded, and peeled
2 tbsp. lemon juice
1/4 tsp. salt or to taste
Pasta
1 lb. Whole wheat pasta or your choice
2 tbsp. Avocado oil
2 cups Brocolli
1 zucchini halved and sliced
6 Cloves garlic minced
12 Oz. Cherry Tomatoes halved
1/2 tsp. Ground fresh pepper or to taste
salt to taste
INSTRUCTIONS
For Avocado Pesto Sauce
Rinse basil leaves and remove leaves from stems; Discard stems. Dry up the basil with a cloth or in air.
Blend basil leaves, pine nuts, avocado, parmesan cheese, lemon juice, salt and olive oil together in a blender. Pulse until finely chopped.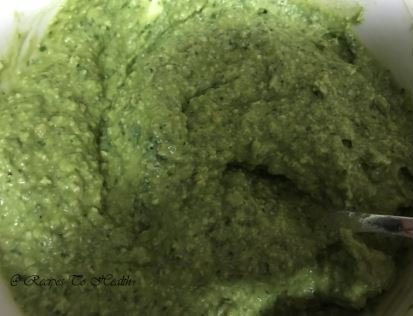 For Pasta
Take a large pan or pot , fill it up with water , season it with little bit of sea salt and few drops of oil and bring to a rolling boil.
Add pasta to the pot of boiling water and cook pasta according to the pasta package directions. Drain.
In a saucepan , heat avocado oil over medium heat. Add garlic and cook for a minute. Add zucchini , broccoli and salt to taste . Stir and cook until fork tender, about 5 minutes. Add cherry tomatoes to it, gradually stir for a minute and remove from heat.
Add pasta to the vegetables and then add and stir in avocado pesto sauce so that the pasta is well coated. Add fresh ground pepper and salt to taste (if required)
Serve slightly warm in a bowl.