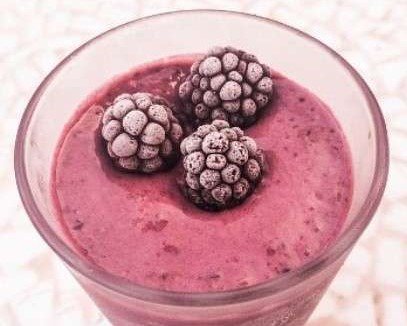 Diabetic friendly Triple Berry Smoothie
Antioxidants and protein-rich delicious Triple Berry Smoothie is a great way to kick start your day. Greek yogurt is a good source of protein, calcium and Vitamin D . Berries are diabetic friendly superfoods as they have low glycemic index and contain antioxidants, vitamins and fiber.  Berries also contain Omega 9 fatty acid.  Chia seeds also help in preventing the development of diabetes as they are rich in alpha-linolenic acid and fiber.
Triple Berry Smoothie Recipe | How to make Triple Berry Smoothie | Diabetic friendly smoothie
People: 4 | Preparation time: 5 minutes
Ingredients:
3½ cups low-fat Greek vanilla yogurt OR Soy yogurt OR 0% fat Greek yogurt for diabetic friendly smoothie
2 Tbsp. Chia Seeds
2/3 cup strawberries
1⁄2 cup blackberries
½ cup raspberries
Ice cubes (Optional)
Preparation:
Place all ingredients into a blender and blend until smooth.
Serve immediately.
NOTE: Frozen fruit will produce a thicker smoothie.
Diabetic Option: Use 0% fat Greek yogurt for diabetic friendly smooth instead of vanilla yogurt
Vegan option: Substitute soy yogurt for vanilla yogurt.