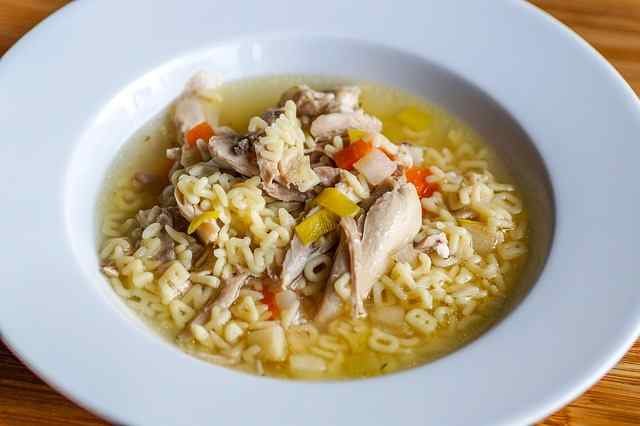 Slow Cooker Chicken and Rice Soup Recipe
This comforting Slow Cooker Chicken and Rice Soup has a standard chicken-soup base—carrot, celery, chicken breast, chicken stock—but adds shallot, cremini mushrooms and herbes de Provence for deeper, richer flavor. A quick-cooking wild rice blend makes the dish hearty without being heavy and adds a toothy bite that noodles just can't provide.
This is not a slow slow-cooker recipe. You can have soup on the table in 3 hours, but you don't need to stand over the stove stirring or fussing. Pop in at the 2 1/2-hour mark to add a bit of rice and shred your chicken.
Then just let it ride for another 30 minutes—make a salad, set the table, nudge the kids to wrap up homework—and ladle it up and enjoy. It's perfect for a cold Sunday night, when you can tuck into a bowl for dinner and dream about the easy, cozy leftovers you'll have for lunch.
For the Best Results Cook on High
Hands-off cooking is what makes slow cooker soups so valuable. This soup is best cooked on high so that the rice will be tender at the end (some slow cookers aren't hot enough on low to properly cook the rice).
But if you need more flexibility in the timing, you could opt to cook the soup for 5 hours on low and stir in fully cooked rice at the end. With a fully cooked rice—or even pasta, such as orzo—you need only to heat it through, so just add it shortly before serving.
Pro tip: It might feel like you're not adding enough chicken stock, but the mushrooms will release a lot of liquid that will create an even more flavorful broth.
Best Chicken for Slow Cooker Soup
Boneless, skinless breasts are easy to work with, but you can use thighs if you prefer. Boneless, skinless thighs will result in a more shredded texture, but they'll be equally delicious. To keep things easy, put the chicken breasts or thighs in whole and then pluck them out to shred or chop before you serve.
You can even swap in ground chicken—or ground turkey or pork if that's what you have on hand.
Best Rice for Slow Cooker Soup
Rice can require a little finesse in slow cooker recipes. To avoid ending up with either porridge or raw, crunchy rice, look for the par-cooked rice blends that indicate they're ready in 15 minutes.
We found great success with two different wild rice blends for use in slow cookers:
If you have quick-cooking rice: This is rice that cooks in 35 minutes, just add it at the 45-minute mark. You do not want to add rice at the beginning of the cooking time. It will turn to mush.
If you have regular rice: Cook it separately and just stir it in at the end—or ladle the soup over it in the bowl. The same is true of microwavable rice: Cook as directed and then divide into bowls or stir into the finished soup.
If you use a seasoned rice blend, be sure to reduce the salt in the recipe (you can always adjust the seasoning at the end once you taste it with the rice).
Simple Swaps, Substitutions, or Add-Ins
This recipe is adaptable in the best ways.
No cremini mushrooms? Substitute button mushrooms or diced portobello mushrooms.
If you don't have herbes de Provence, use a scant 3/4 teaspoon of dried thyme.
Swap the shallot for a small white or yellow onion if needed.
Stir a swirl of heavy cream or a spoonful of sour cream into your bowl to give it more body.
Sprinkle Parmesan cheese and a drizzle of olive oil on top.
How to Store and Freeze Chicken and Rice Soup
This recipe makes 8 cups, so you might have leftover soup. Store it in an airtight container in the fridge for up to 5 days. The rice will absorb some liquid as it sits, so you don't want to leave it too long. Stir in a little extra broth or water when reheating if needed for your desired consistency.
You can also freeze leftover soup for up to three months. Reheat over low on the stovetop or in the microwave.
Make it a Meal
This savory soup is great when served with a simple arugula salad with a bit of oil and lemon or a white wine vinaigrette. The spicy greens and bright dressing provide a fresh contrast.